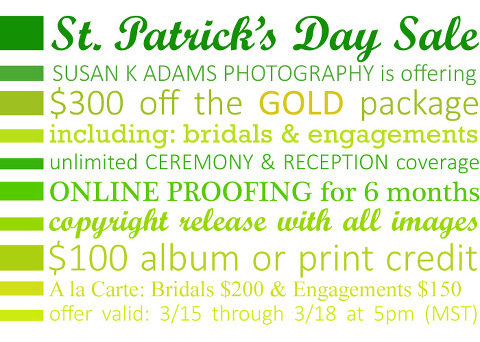 I remember in Kindergarten showing up for school on the morning of St. Patrick's Day and Mrs. Carpenter had leprechauned our classroom. I especially remember tiny green, sparkly footprints all over the room, green eggs for breakfast, green nets hanging from the ceiling that were white the day before, and a pot of gold. From that day on it was my favorite holiday. As you know, I'm from Kansas City, and every year there is a huge St. Patty's Day parade the morning of with parties the rest of the day.
For our St. Patty's Day we'll just celebrate with corned beef and cabbage, but since that's probably my all-time favorite meal, I couldn't be more excited.
Contact me with any questions about the Gold package, booking sessions/packages, or how to prepare a mean corned beef! And I hope you enjoy your St. Patrick's Weekend!